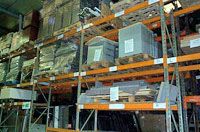 Furniture Storage Warehousing
With office costs being so high, particularly in large Towns and Cities, it makes good commercial sense to ensure that all of your available office space is being used to its' best advantage. However, often excess furniture and seating, carpet tiles, old files and even spare office equipment are left to clutter up offices, corridors and even Fire Escapes, with the Health and Safety implications that this may bring.

Our Consultants can assess, and perhaps even redesign your workspace, improving the efficiency of your office by reconfiguring your existing office furniture and storage. Furthermore, we can remove from site your excess items and store them securely in our warehouse, ready to be returned when required.

Our Furniture Warehousing Facilities
Our Warehousing facility is situated within half a mile of the M2 and six miles from the M20 Motorways, near Rochester in Kent. From this ideal location, we are able to reach London in as little as half an hour and all of the South East from ninety minutes via the M25, which is less than ten minutes away.

Our investment in mechanical handling facilities and pallet racking, allows items to be received, stored and despatched on pallets where practical, reducing the likelihood of damage due to excessive handling. Alternatively, storage is also available in floor areas where this is more suitable, and we can arrange containerised storage if required.

We can provide full inventoried storage facilities using the latest Information Technology or will just receive, consolidate and despatch your orders. All items can be protected with bubble wrap or cling film upon arrival at our warehouse, and will be labelled and identified accordingly.