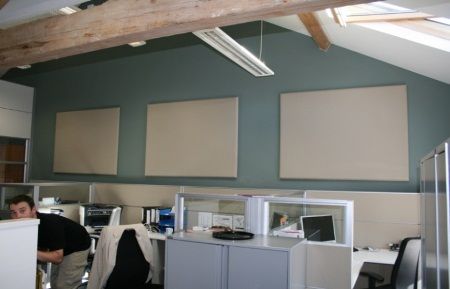 Sound Absorbing Panels
One effective measure for reducing reverberation, or reflected sound, is to apply fabric coloured wall mounted acoustic panels to the walls.

The fabric can be plain, perhaps with the strategic use of bold colours on a plain wall, to make an interior design feature, or for an additional charge, plain white Lucia fabric can be printed with a digital image of your choice. This is a superb way of introducing corporate imagery for your customers to see, whilst effectively reducing reverberating sound.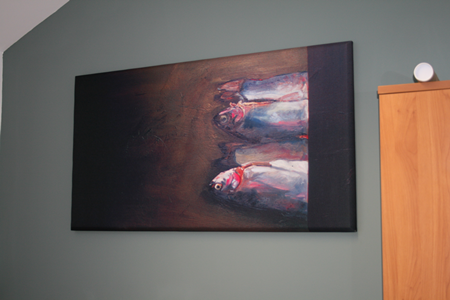 Acoustic Wall Pictures
The panels are manufactured in a wide range of sizes to suit every requirement and can be produced in either 25mm or 40mm thick versions. The former absorbs 85% of sound that hits it, whilst the thicker panels absorb 95% of the sound.

The standard frame colour is silver but white is available at a surcharge. The panels are fixed to the wall with simple "Z" bar fixings, so can easily be relocated when you move offices.
Ecophon Acoustic Panels
These Ecophon acoustic panels are available in various shapes and sizes, and can make interesting wall features as addition to effectively reducing reverberated sound by absorbing 90% of the sound that hits the panels.


They are available with wide selection of colours and a choice of silver, white or black frames.