Buy Furniture Online from Aerofoil Design
We have over 36 years experience in the designing of offices and home offices, and in specifying the most suitable furniture for our Customer's requirement and budget.

We have tried to simplify this process with this web site, and have offered many products for sale, or least for specification Online. Those where the choice is clear and the decision fairly obvious, we have offered for Online Purchase.

However, should you have any questions at any stage, before your purchase, during or even after having placed an order, just contact our team on 01634 304403, or by email.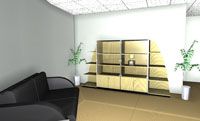 Why Don't We Sell All Of Our Products Online
With many of the suppliers we work with, product portfolios can be extensive and it can be very difficult to represent every furniture option Online.

Furthermore, our Furniture Consultants are specialists with a great deal of experience, and have learned to utilise the furniture products at their disposal to create special office solutions that may not be evident to our customers, and sometimes not even to the manufacturers!!

Additionally, you may take advantage of our Office Design and Space Planning service to ensure that the furniture fits where you would like it, and to allow a better perspective of the overall office design and workflow.

This is what we refer to as creating premier furniture solutions.

Please peruse our web site not only to make your furniture purchases, but to get inspirational ideas from our other ranges and from our Completed Jobs Section and fee free to call us at any time for further advice and assistance.