Archive Filing - Business Document Storage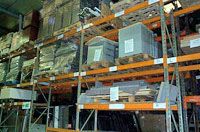 Business Document Storage - Archive File Storage and Retrieval
Aerofoil Design and Management offer a secure Archive Business Document Storage facility for your important Company documents and office files. We can supply you archive boxes, or you can use your own document storage boxes.

Full archive boxes will be collected from your business offices, listed and placed into our archive storage until such time as you may need them. Of course whole document boxes, or even individual office files, can be returned to your office for those urgent requirements, and we can even fax documents to you, if it is really urgent.

Archive storage space can be utilised for your Document Storage on a short-term or long-term basis, with prices reducing for increased volume and for longer periods.

Go on, place your excess office files and documents in storage and take your office space back! Please contact us to discuss your requirements.