Office and Contract Furniture Installation
Professional and Reliable Office Furniture Installation
For thirty years now, we have been offering Clients a full furniture assembly and installation service for all types of office, contract and hotel furniture. It is a proven, cost effective and professional service that Customers can rely upon, which is not always the case in this industry.

Whether ready-built, heavy case-goods or flat-packed self-assembly systems, our team has vast experience, with thousands of installations completed, and we will do everything possible to ensure the Customer is happy with the end result. It is our Technicians "Can-Do" attitude that usually sets us apart from our competition.

Small deliveries of furniture can be collected or received on your behalf, and delivered and assembled as required. This can be a dedicated service or it may be combined with other furniture deliveries to reduce costs. Alternatively, if you have ordered your furniture elsewhere, we can offer an unpacking and assembly service, in your office or home. Larger deliveries can perhaps, be met on site, unloaded, distributed and assembled according to the agreed plans and instructions. Contact us for advice, and a free quotation.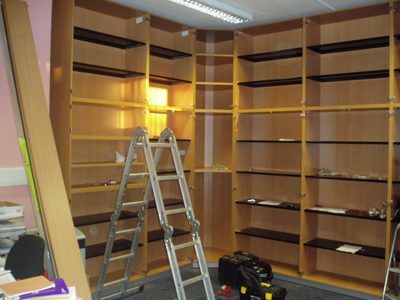 Contract and Hotel Furniture Installation
Whether the requirement is for the assembly of Office Furniture, or perhaps Hotel or University Bedroom Furniture, Café and Restaurant Furniture, or a new Reception Desk, the same qualities prevail.

The Directors are well known in the International Furniture Trade and have experience of working with, and representing Manufacturers and Distributors from seven Countries. They have also been involved with overseas furniture projects, installing in thirteen Countries to-date, so if your requirement is outside of the UK, this is not usually a problem.

From a home-office desk, to a four hundred bedroom hotel, and from two hundred custom-built executive desks, through to the complete installation of a Private Hospital in Scotland, we have experienced most requirements.

Our skilled personnel will unload and distribute furniture or components, unpack and clear all packaging, and assemble the product quickly, efficiently and professionally. They will clean the furniture, vacuum the surrounding area and check the product for faults, leaving the area ready for immediate occupation.

We can work with your personnel if required, with a minimum of supervision, or more commonly, independently and on your behalf. We provide full Supervisory and Management support for larger jobs both on and off site, as required.

Our support services, which includes full documentation and reporting systems can be tailored to suit, and are designed to minimise problems for our Clients.

Click here to enquire about your furniture installation requirements.